#Items
#Lifeskill
#Event
#NoviceAdventurers
#Enhancement
#Tips&Guides
#Recommendations
#Other
[Event] Weekly Silver Shop Deals
# 1
Edit Date : 2022-06-26
During The [Event] Weekly Silver Shop Deals Period which is from June 24, 2022 (Fri) 00:00 to July 17, 2022 (Sun) 23:59, go to Pearl Shop (F3) > Hot & New > Event Items tab Or ( ESC ) key > Shop > Pearl Shop > Hot & New > Event :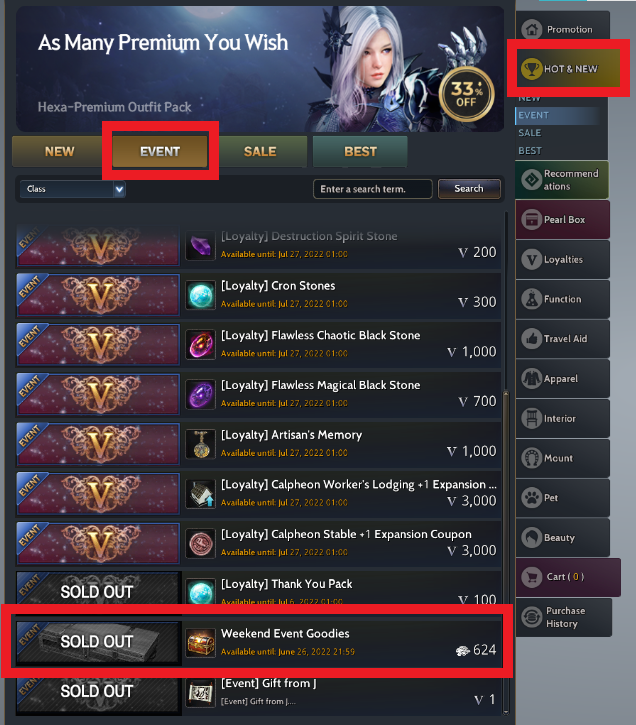 to purchase the following items with silver :
* Each of the silver products can only be purchased once per Family.
* These products can be found in the Pearl Shop (Hotkey: F3). If you cannot find them after they become available, please try reconnecting to the game.
That's all about this guide, if you ever have any question related to BDO just hit me up on my Discord : Dustan#0325
Enjoy your time !
# 2
Edit Date : 2022-07-01
Thanks a lot mate
# 3
Edit Date : 2022-07-08
On: 2022-07-01 02:14, By: Yòshimitsu
My pleasure
Feedback
Topic[Event] Weekly Silver Shop Deals