#PvP
#Tips&Guides
#Node/ConquestWar
Capped siege, gear and buffs
# 1
Edit Date : 2022-11-20
If you are planning to join a capped siege ( Calpheon / Mediah ) there are few things that can help you deal more damage / be more tanky:
- Gear:
Chimera's Pupil Gem for the Down attack Damage.

Kaia Necklace for the back attack damage

You also need to make sure that you are still above the AP cap after equipping these accessories, by simple clicking the castle icon from the map, If not equip some of your original accessories until your rach the AP/limit.

Hp is also the most important stat in capped sieges, since AP/DP are capped, and almost everyone participating in siege reaches this CAP.



Equipping rebellious crystals can be very usefull, specially for most of the melee classes / frontline that need survivability, more than the extra damage from corrupted,


-Buffs :

Elixir of deep sea might be hard to get from market/ Expensive,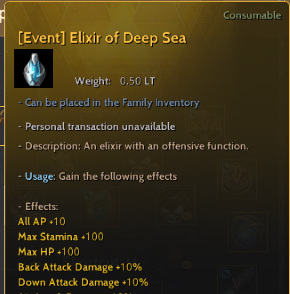 You can still get it from any guild supply manager using your medals,

Make sure to also buy this too


In order to make a better version of Elixir of deep sea that has extra HP, by simply combining Vitality tonic and elixir of deep sea, using simple alchemy
(This version of Elixir of deep sea is usable only during sieges/nodewars ).
You can also combine Giant's draught with Vitality tonic, in order to obtain a better version of it ( This version of giant draught is usable only during sieges/nodewars ).
Fourniture that gives extra 100 HP.

# 2
Edit Date : 2022-11-20
thnx
Feedback
TopicCapped siege, gear and buffs