Events
[Event] I too can create a story in the Terrmian Waterpark!
Black Desert
2019-08-07 07:00
Comments 0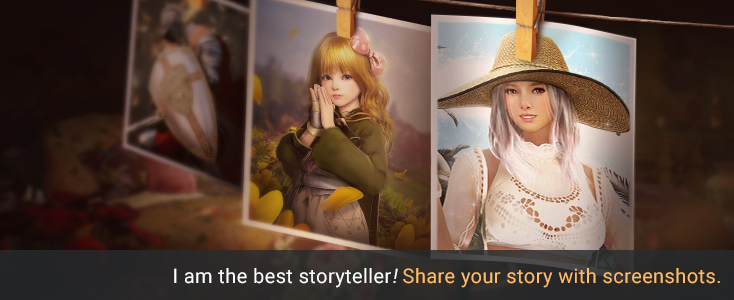 Hello Adventurers!
What comes to your mind with the words, "Black Desert" and "Summer"?
It's probably the location where summer first arrives to Black Desert. 
The Terrmian Waterpark! 
It's not just the concert stage, sand castle, diving spots, or stepping stones, but also the campfire and colourful lights that appear at night that brings out the lyrical atmosphere. 
With such diverse attractions and entertainment, everything from a sad love story, witty narrative, to an Adventurer's everyday life story can exist here. 
Tell your own story with the Terrmian Waterpark as the backdrop. 
■ Event Details 
Let your imaginations run wild and create your story by taking several screenshots with the Terrmian Waterpark as the backdrop.  
■ How to Participate
1) Think of a story with the Terrmain Waterpark as its backdrop (Everyday experiences, creative ones all OK!)
2) Take at least 4 screenshots to envision your story.  
3) Create a story by arranging your screenshots well.




※ If needed, you can freely edit/combine or add speech bubbles to your screenshots.
※ The story must be composed of at least 4 screenshots.




4) Upload the story you created with [Story] at the start of the title on the Official Homepage > Community > Screenshot/Clips board. 

■ Event Period
  - August 7, 2019 after maintenance ~ August 28, 2019 before maintenance 
[Example]
Shaidol and the Middle-Aged Fan
[1]
The Up-and-Coming Rookie Musician Shaidol
[2]
The middle-aged fan is determined to get the idol's warm greetings.
[3]
Shaidol's concert sells out today thanks to the support of her fans. Here she plays her Tute.
[4]
She also plays Tring to continue her musical performance
[5]
She can't keep up with her demanding day-and-night schedule,
so, she takes a fall..
[6]
The Middle-Aged Fan was so shocked at Shaidol's sudden fall, that he was at a loss on what to do!
[7]
Has his devotion been answered by this passerby?
This kind passerby uses her resurrection skill to help Shaidol recover. 
[8]
The Middle-Aged Fan is overjoyed to be reunited with Shaidol, who has regained her strength.
[9]
※ Image [2] is a speech bubble example, image [7] is a composition example, and image [9] is an example of adding text.
Of course, we're expecting a much more charming story than this example from our Adventurers!
■ Event Prizes
1) Participation - All 
2) Excellence Prize - 10 Winners
3) Grand Prize - 3 Winners
Winners

Rewards

All Participants

[Event] Merv's Palette (7 Days)
[Event] Lauren Family Gift Box x1

Excellence Prize (10 Winners)

[Event] Merv's Palette (30 Days)
[Event] Shakatu's Luxury Box x1

Grand Prize (3 Winners)

[Event] Black Cloaked Dog
[Event] Shakatu's Luxury Box x2
[Event] Merv's Palette (30 Days)

Title: BDO Photographer (Permanent)
■ Winners Announcement
September 2nd (Mon), 2019 
We are already excited to hear the stories our Adventurers will tell us. 
So, enjoy your adventure in Black Desert by cooling off in the Terrmian Waterpark during the hot summer.
Thank you. 
---
 ※ Event Notices
- You will be disqualified as a participant if your post's title does not start with [Story]. 
- Your entry must include at least 4 screenshots. 
- Rewards will be sent through your in-game mail after the maintenance on 9/4 (Wed). You can find the title you've received as a reward by going to My Information ('P') > Title List 
- Pearl Abyss reserves the right to change or cancel the event depending on circumstances. If changes are made, they can be found on this event page. 
- Violating any of the Terms of Service will result in a cancellation/retrieval of your reward and restriction from the game.
- You may be disqualified and your reward take away if you use inappropriate methods or someone else's work to participate in the event.
- Pearl Abyss will be entitled to Secondary Copyrights of all screenshots and other works
- You can participate in this event as many times as you want, winners will be selected through an internal judging process. However, one family can only win once.
- You may be disqualified if your Family Name, Character Name, or Guild Name is deemed inappropriate.
- There may be restrictions on trading/selling event items, and they may have usage expiration dates.
- Each event item may have different binding settings, and these items cannot be transferred or restored due to this reason.
- Please refer to the in-game item description for details on whether the item is bound.
- If you have any questions about this event, please send a ticket through [Support > Customer Support].
- Content not listed on this page follows the [Black Desert Event Rules].