Notices
[Notice] [Completed] August 17, 2022 (Wed) Service Maintenance
Black Desert
2022-08-12 12:00
Comments 0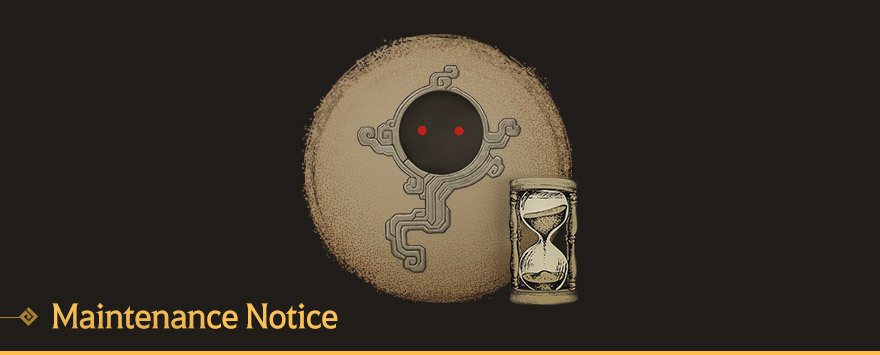 Greetings  Adventurers!
This is The MMORPG Black Desert.
The scheduled maintenance is complete as of August 17 (Wed) 07:00 AM (GMT+3).
Please check out new update files (~1414.PAP)


---

We will be performing our regularly scheduled maintenance on August 17 (Wed) for our Black Desert game and website services in order to improve these services and bring you the latest updates.
During this time, the services undergoing maintenance will be temporarily unavailable.
Please refer below for more information regarding the maintenance.

Maintenance Details
■ Game Maintenance
- Maintenance Period: August 17, 2022 (Wed) 03:00 ~ 07:00 (4 hours, GMT+3)
- Affected Service(s): Black Desert game servers
- Impact: All Black Desert servers will be unavailable; Unable to send items in Web Storage to in-game
* Once maintenance begins, you will be disconnected from the game even if you are waiting in-queue.
* Please move your character to a safe location (safe zone) before exiting the game/maintenance begins in order to avoid being attacked by monsters or other Adventurers.
* You may receive an error message if you try to sign-up on our website during the maintenance.
* If you receive an error message stating that you are already logged in after the maintenance, please try restarting your client.
■ Website Maintenance
- Maintenance Period: August 17, 2022 (Wed) 03:00 ~ 05:00 (2 hours, GMT+3)
- Affected Service(s): Black Desert official website
- Impact: All website services will be unavailable


Update Preview
● The Arena of Solare regular season will begin.
● The max level cap of Fairies will be increased and a new Fairy skill will be added.
● 300-minute buffs will be added to certain NPCs


Ending Events
- Reach Lv. 50 for a FREE Game Pass!
- Summer's Special Login Rewards>Summer's Special Login Rewards
- Summer Memories with Papus and Otters
- Ash Dragon's Roar