GM Notes
[GM Note] Black Desert Quick Tips 3
Black Desert
2023-01-12 13:00
Comments 0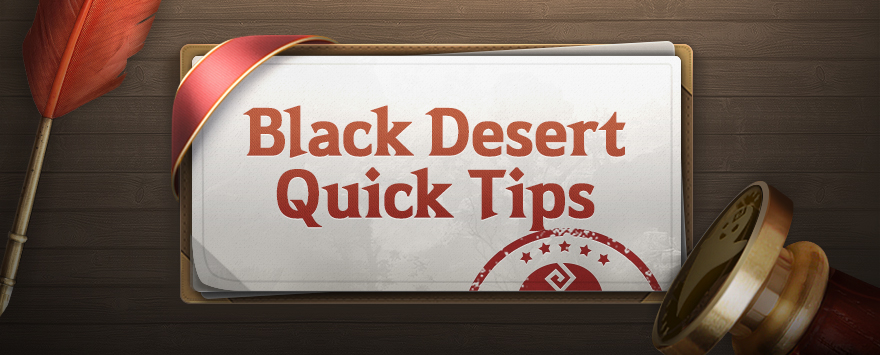 ---
---
---
---
---
---


"Can I make it so only the quest types I want to show up, show up?"
Press O to open the quest menu.
At the bottom, you can select one of the 5 types of quests.
Unactivated quest types won't appear.

(This setting can only be changed by characters above level 20.)
▲ Set to Combat quests, you can't see the quest from the NPC
▲ Activating all quests makes the quest show up!
* Some quests, such as the Main Quest line, will show up regardless of the quest filter.
"Which Stable Keepers rent the Traveler's Horse?"
A traveler's Horse can easily be rented and used at any time from certain stables!
Traveler's Horses can be rented from Stable Keeper's in major towns and cities.


Town/City
Stable Keeper
Velia
Lorenzo Murray
Heidel

Vanacil

Izaro

Glish
Allan
Keplan
Partus
Calpheon

Breesman

Dimanthor

Ashrogue

Romary

Gabril

Altinova
Meisha
Tarif
Muam Mant

You can easily tell which Stable Keepers will rent a Traveler's Horse by the unique icon above their head.


"I need a place to live!"
Hard to find the type of house you're looking for?


Enter a city on the world map, then check out the search function in the top corner.


Once you type the type of house, arrows will show you which domiciles meet the criteria.




* Please note that this function is case sensitive.
"I...I didn't say that...when did I...?"
Do you want to check the time something in chat was posted!?
Press the gear icon on the chat window to go to the setup window.
Check the "Show Chat Timestamp" option to activate the setting! ✔️
Then you'll be able to see when chat was posted! ⏰
"Can we take a look around while we move?"
Ever wanted to just look around while moving?
Hold the mousewheel button down and move the mouse.
Your character will still move in the same direction, but you'll be able to look around!
It's possible to do even when your character isn't moving!
This will be useful for taking screenshots, right?
"Shall we clean up your bags quickly?"
Use the 'Trash' function to throw multiple items away at the same time..
Open your inventory (i), click the trash icon, choose the items, then discard them. Super simple right?
* Make sure not to throw away important items! Double check before hitting that discard button.
"Want to go zoomies?"
Many Adventurers know, but do YOU know how to link Instant Acceleration and Drift on a horse to unleash your full speed?
⌨
Instant Acceleration: F while Running


Drift:

← or → + ↓ while running
Once you get the hang of it, you'll be zooming from A to B in no time at all.



▲ Pure zoomies using Instant Acceleration continuously

One last tip!

ESC - Settings - Interface Settings - Action Hotkey
Try setting Evasion (WW) to a hot key!

▲ I set it to function with the side mouse button

Doing this will make it so you no longer need to press the 'W' key to run forward, allowing you to instant accel drift easier than before.


▲ Drift like it's 2006
We hope the Black Desert Short Tips were helpful!
If they were, make sure to leave a tip of your own in the comments!