GM Notes
[GM Note] Black Desert Quick Tips 4
Black Desert
2023-01-26 13:05
Comments 0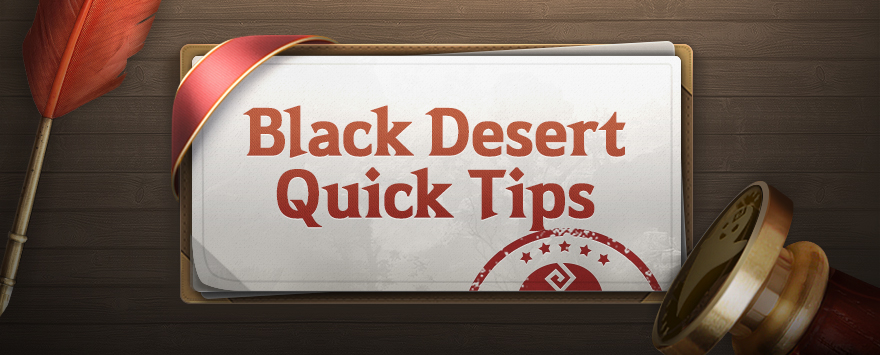 ---
---
---
---
---
---


"Let's register favorites on the Central Marketplace."
Do you find yourself looking up the same items constantly on the Central Marketplace?
Then it's time to set up your favorites.

You can check your most common search terms without ever typing them again.
"Screenshots without backgrounds"

Press Control(Ctrl)+Shift+Print Screen when taking a screenshot.
After taking the snap, go to your screenshots folder and you will find the original image, as well as an image with the background cut out!

* Please note that the quality of the screenshots may vary depending on the outfit and background.
▲ Source(left), backgroundless version(right)

The skies the limit when using this function.
Why don't you give it a try?
[GM takes to the skies of Velia]
"What do I need to enhance this item?"
Open the enhancing UI and throw in the item you want to enhance!
To the left the item you need to enhance with will appear.



▲ Ah, so the Manos Ring needs 10 Concentred Magical Black Stones!
"You can change the appearance of the Black Spirit?!"
Want to see your Black Spirit differently? Want to go back to the floating bean?

completing the '[Valencia] Edana's Descendant' quest from the Valencia questline, you'll be able to change the appearance of your Black Spirit at the bottom left of the Black Spirit Menu!


"Streamline your notification widget!"
The widget shows useful windows such as your Black Spirit Safe, but what if you want to focus on something else?

Slap that X button and most of them will just disappear!
"Time to focus on combat with the combat focus mode"
Want to just soak in the combat?
Take advantage of the combat focus mode!

★ ESC Menu – Edit UI – Combat Focus Mode ★


▲ Before Combat Focus Mode


▲ Combat Focus Mode Engaged
"One Pot, Two Pot, Three Pot, Four"
'How many items did you get!?'
Did you open the inventory out of habit?
Right click on the trash look,
And you'll never have to look in your inventory for numbers again!
▲ Counting those silver pieces!
We hope these tips have been helpful Adventurer.

Remember if you want to share tips to other Adventurers,
leave the tips in the comments!
---
Black Desert Short Tips!
Ep1: Server Switching, Quick Learn skills, Resize the Minimap
[Link]
Ep2: Quickly Slot your Quick Slots, Connect nodes quickly, Find my Item
[Link]
Ep3: Find a desired residence, Timestamps for Chat, Trash items quickly
[Link]
Ep4: Backgroundless Screenshots, Notification Widget Away, Black Spirit Appearance Change!
[Link]