Pearl Shop
[Pearl Shop] June 21, 2023 (Wed) New items in the Pearl Shop
Black Desert
2023-06-21 07:00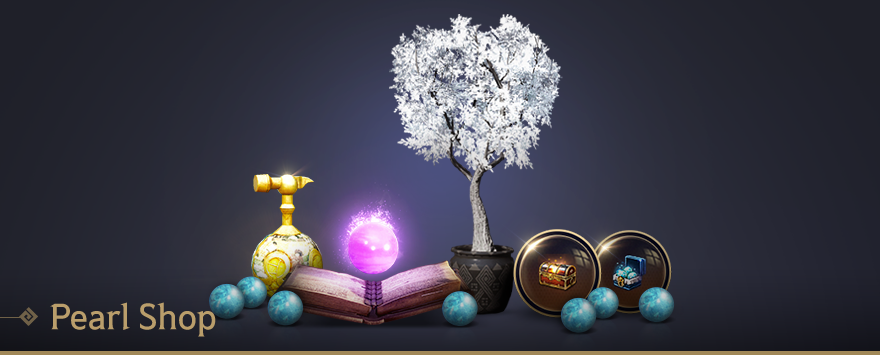 Greetings Adventurers!
Here is the list of products that will be released in the Pearl Shop.
For more details, press (F3) in-game to go to the Pearl Shop.
* Items (Pearl items) that you've purchased with Pearls can be found in your Pearl Inventory. Depending on the Pearl item, they can also be sold on the Central Market.
[A Year of Service] Plentiful Pack
Sale Period: June 21, 2023 (Wed) after maintenance ~ July 5, 2023 (Wed) before maintenance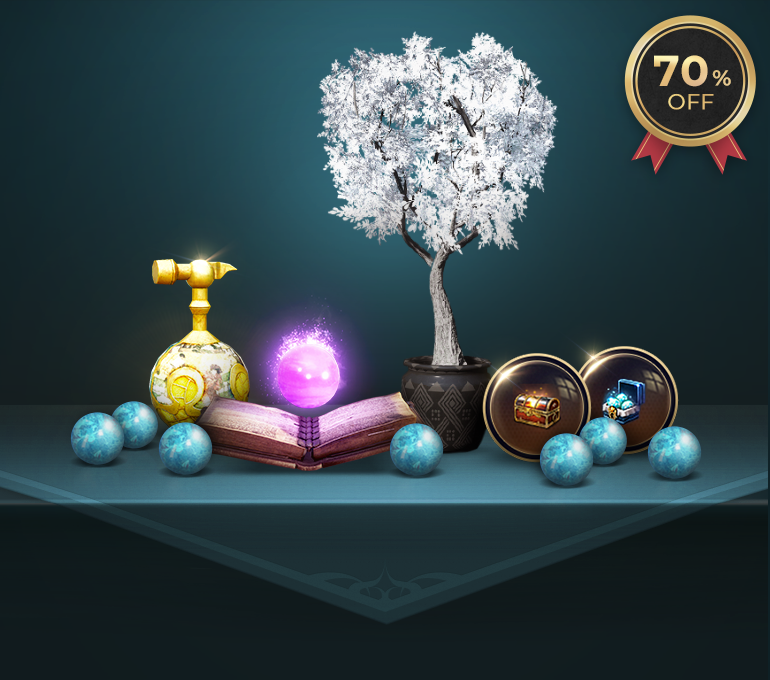 [A Year of Service] Plentiful Pack
70% ↓
1,376 Pearls →

412 Pearls
---

[Event] Maid for Hire Box x1
---
Select one from the list below
Blessing of Kamasylve (15 Days) x1 
Secret Book of Old Moon (15 Days) x1 
Rare Cron Stone Bundle x1
---
Combat & Skill EXP 300% Scroll (60 min) x5
Item Collection Increase Scroll x10
Purchase Restriction: 1 per family
---
[A Year of Service] Shudad Premium All-in-One Pack
Sale Period: June 21, 2023 (Wed) after maintenance ~ July 5, 2023 (Wed) before maintenance


[A Year of Service] Shudad Premium All-in-One Pack
25% ↓
1,540 Pearls →

1,155 Pearls
---
Glorious Shudad Premium Set x1
Shudad Black Premium Outfit Box x1
---
Rare Cron Stone Bundle x1
Purchase Restriction: 3 per family (Resets every Monday at 00:00.)
[A Year of Service] Shudad Classic All-in-One Pack
Sale Period: June 21, 2023 (Wed) after maintenance ~ July 5, 2023 (Wed) before maintenance


[A Year of Service] Shudad Classic All-in-One Pack
25% ↓
1,360 Pearls →

1,020 Pearls
---

Shudad Black Classic Set x1

Glorious Shudad Classic Set x1
---
Rare Cron Stone Bundle x1
Purchase Restriction: 3 per family (Resets every Monday at 00:00.)
---
[TOP 5]
Sale Period: June 21, 2023 (Wed) after maintenance ~ July 5, 2023 (Wed) before maintenance


[TOP 5] Value Pack (7 Days)
50% ↓
77 Pearls →

38 Pearls
---
Purchase Restriction: 1 per family
[TOP 5] Triple Premium Pack
50% ↓
2,310 Pearls →

1,155 Pearls
---
[Event] Premium Outfit Box x3
Purchase Restriction: 1 per family
[TOP 5] Theiah's Orb Pack
50% ↓
600 Pearls →

300 Pearls
---
---
Purchase Restriction: 1 per family
[TOP 5] Inventory +16 Expansion Coupon
50% ↓
330 Pearls →

165 Pearls
---
Inventory +16 Expansion Coupon x1
Purchase Restriction: 1 per family
[TOP 5] Rare Cron Stone Bundle
---
Rare Cron Stone Bundle x1
[Woosa/Maegu] Lunar Blue Pack
Sale Period: June 21, 2023 (Wed) after maintenance ~ July 5, 2023 (Wed) before maintenance
[Woosa] Lunar Blue Pack
30% ↓
820 Pearls →

574 Pearls
---
[Woosa] Lunar Blue Outfit Set
---
Select one from the list below
Inventory +16 Expansion Coupon

Purchase Restriction: 3 per family (Resets every Monday at 00:00.)
[Maegu] Lunar Blue Pack
30% ↓
820 Pearls →

574 Pearls
---
[Maegu] Lunar Blue Outfit Set
---
Select one from the list below
Inventory +16 Expansion Coupon

Purchase Restriction: 3 per family (Resets every Monday at 00:00.)
[Woosa/Maegu] Lunar Blue Outfit Set

Sale Period: June 21, 2023 (Wed) after maintenance ~


[Woosa] Lunar Blue Outfit Set
[Woosa] Lunar Blue
[Woosa] Lunar Blue Helmet
---
[Woosa] Lunar Blue Armor
---
[Woosa] Lunar Blue Gloves
---
[Woosa] Lunar Blue Shoes
[Maegu] Lunar Blue Outfit Set
[Maegu] Lunar Blue
[Maegu] Lunar Blue Helmet
---
[Maegu] Lunar Blue Armor
---
[Maegu] Lunar Blue Gloves
---
[Maegu] Lunar Blue Shoes
---
[Drakania/Woosa/Maegu] Trilby Headpiece

Sale Period: June 21, 2023 (Wed) after maintenance ~
[Drakania] Trilby Headpiece
[Woosa] Trilby Headpiece
[Maegu] Trilby Headpiece
[Drakania/Woosa/Maegu] Blanchard Headpiece/Gloves/Shoes

Sale Period: June 21, 2023 (Wed) after maintenance ~
[Drakania] Blanchard Headpiece
[Drakania] Blanchard Gloves
[Drakania] Blanchard Shoes
---
[Woosa] Blanchard Headpiece
[Woosa] Blanchard Gloves
[Woosa] Blanchard Shoes
---

[Maegu] Blanchard Headpiece
[Maegu] Blanchard Gloves
[Maegu] Blanchard Shoes
---
New Year Hanbok Outfit Box

Sale Period: June 21, 2023 (Wed) after maintenance ~ July 5, 2023 (Wed) before maintenance
New Year Hanbok Outfit Box
10% ↓
500 Pearls →

450 Pearls
---
New Year Hanbok Outfit Box x1
---
Luxury Enhancement Pack

Sale Period: June 21, 2023 (Wed) after maintenance ~ July 5, 2023 (Wed) before maintenance
Luxury Enhancement Pack I
30% ↓
780 Pearls →

546 Pearls
---

---
Custom Enhancement Box I x1
Purchase Restriction: 5 per family (Resets every Monday at 00:00.)
Luxury Enhancement Pack II
35% ↓
2,760 Pearls →

1,794 Pearls
---

---
Custom Enhancement Box II x1
Function 10% DC Coupon x1
Purchase Restriction: 5 per family (Resets every Monday at 00:00.)
---
Fine Steed Training Pack

Sale Period: June 21, 2023 (Wed) after maintenance ~ July 5, 2023 (Wed) before maintenance
Fine Steed Training Pack
30% ↓
1,350 Pearls →

945 Pearls
---
Mount Skill Change Coupon x10

---
Select one from the list below
Mount Skill Change Coupon x3
Premium Horse Appearance Change Coupon x1

Extra Mount EXP Scroll (10 Hours) x4
---
[Event] Magical: Celerity Draught x2
[Event] Rare Courser Training Box x2
Purchase Restriction: 5 per family (Resets every Monday at 00:00.)
---
Triple Gosphy Pack

Sale Period: June 21, 2023 (Wed) after maintenance ~ July 5, 2023 (Wed) before maintenance
Triple Gosphy Pack
33% ↓
960 Pearls →

640 Pearls
---
---
Kanpacho's Chewable Tablet x10
Purchase Restriction: 5 per family (Resets every Monday at 00:00.)
---
Triple Maids & Butlers Pack

Sale Period: June 21, 2023 (Wed) after maintenance ~ July 5, 2023 (Wed) before maintenance
Triple Maids & Butlers Pack
33% ↓
960 Pearls →

640 Pearls
---
Select three from the list below
(you can select multiples of the same item)
[Transaction Maid] Fairy Irene
[Storage Maid] Fairy Irene
[Transaction Maid] Fairy Risty
[Storage Maid] Fairy Risty
[Transaction Maid] Fairy Chiara
[Storage Maid] Fairy Chiara
[Transaction Butler] Ethan
Purchase Restriction: 5 per family (Resets every Monday at 00:00.)
---
Storage +20 Slots Pack

Sale Period: June 21, 2023 (Wed) after maintenance ~ July 5, 2023 (Wed) before maintenance
Calpheon City Storage +20 Slots Pack
30% ↓
64 Pearls →

44 Pearls
---
Calpheon City Storage +8 Expansion Coupon x2
Calpheon City Storage +4 Expansion Coupon x1
Purchase Restriction: 5 per family (Resets every Monday at 00:00.)
Valencia City Storage +20 Slots Pack
30% ↓
64 Pearls →

44 Pearls
---
Valencia City Storage +8 Expansion Coupon x2
Valencia City Storage +4 Expansion Coupon x1
Purchase Restriction: 5 per family (Resets every Monday at 00:00.)