Notices
[Notice] Summer Season Schedule and Hashashin Release Announcement
Black Desert
2020-07-27 00:00
Comments 1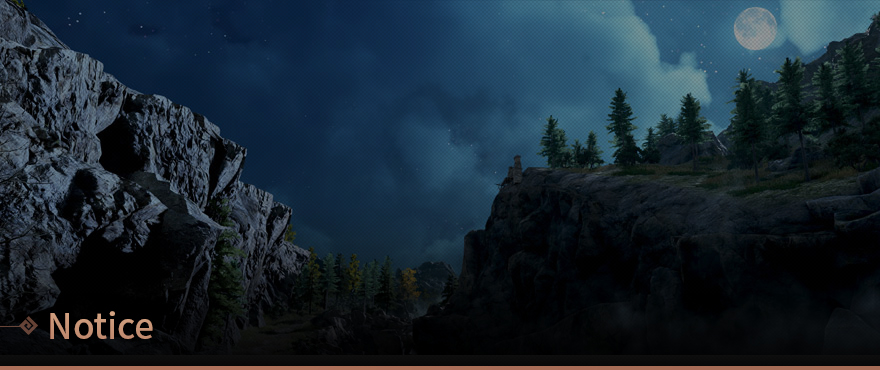 Greetings Adventurers!  
We want to thank everyone for the amazing love and interest you've given the season servers of Black Desert. While many Adventurers have been playing the season servers after the start of the Summer Season, we've also received a lot of questions about when the upcoming new class "Hand of Aal, Hashashin" will be released and requests to release him quickly.    
As we've always sought ways to not only introduce new classes to our Adventurers quickly, but also help them grow their characters. We believe our Adventurers will have more fun if they were able to level and grow the new classes on the season servers.  
Of course, it will be difficult for us to release a new class at the start of each new season, but if it is possible, we want to take a direction where we can aid our Adventurers' growth as much as we can.   
For the reasons above, the end date of the Summer Season will be moved ahead of the originally announced date to an earlier date of the August 26th (Wed) maintenance.   
We understand that some Adventurers who are currently playing on the season servers may feel pressured in growing their character as a result of the earlier end date. To help these Adventurers out, we are preparing events where you can obtain a variety of necessary items to level up and strengthen your character during the Summer Season. In addition, if you're an Adventurer who feels they are done with their time in the season servers, you'll be able to graduate early from the summer season after the maintenance on August 5th (Wed).    
With the change to the Summer Season schedule, there will also be an event where you can get the item rewards of the daily Season Challenges from 8/20 to 8/26. 
For more details regarding the early graduation including the benefits and rewards, please check out the [GM Note] linked here. 
As for the details regarding the schedule, please refer below.    
---
Summer Season Schedule 
August 5 (Wed) after maintenance  
- Start of Early Graduation Period  
August 26 (Wed) after maintenance  
- End of Summer Season  
- End of [Event] Black Spirit Pass Sale, Season Pass, and Black Spirit Pass Challenge  
- Start of Pre-Creation for the New Class Hashashin and Season Characters  
September 2 (Wed) after maintenance  
- Start of New Season  
- New Class Hashashin Update 
---
We hope you'll continue to have a fulfilling adventure on the season servers. Please stay tuned for the Hand of Aal, Hashashin! 
Thank you.